Court Challenge Update
See the Divisional Court's decision deeming the Ford Government's "Student Choice Intiaitive" unlawful:
What's changing in Ontario's post-secondary education system?
 In February 2019, the We The Students campaign launched, in response to the provincial government's cuts to the Ontario Student Assistance Program (OSAP) and the introduction of the Student Choice Initiative (SCI). The campaign has since expanded to include elements of the Federation's broader advocacy strategy that promotes free and accessible education for all students.
Significant cuts to grants and loans provided by OSAP.
A 10 per cent reduction in tuition fees for domestic students in publicly funded programs.
Students' unions, groups, clubs, campus press, radio stations and other crucial student services are at risk of funding shortfalls, closures and attacks through the Student 'Choice' Initiative.
Public funding for post-secondary education is regressively shifting from enrolment based funding to performance-based funding.
The We The Students campaign calls on the Ontario Legislature to:
Provide More Grants, Not loans;
In 2017, over 234,000 students received non-repayable grants to cover the full cost of college or university.
Recent government changes have reverted back to greater loans which will result in increased student debt.
The average post-secondary student in Ontario graduates with over $28,000 in debt.
The government must increase funding for grants instead of loans and expand eligibility for non-repayable grants to ALL students.
Eliminate Tuition Fees for ALL Students;
Tuition fees in Ontario have increased for over a decade to make up for government funding shortfalls.
Even with a 10 per cent tuition fee cut, Ontario has some of the highest university tuition fees in the country.
International students contribute $8 billion to the economy per year and still pay 3-4 times more in tuition fees compared to domestic students.
The government must reduce and eliminate tuition fees for ALL students.
Increase Public Funding for Public Education;
Ontario has the lowest per-student funding in Canada – roughly 35 per cent less than the national average.
Less than 50 per cent of operating budgets for most institutions come from the government, making them publicly-assisted NOT publicly funded.
Less public funding leads to large class sizes, less access to instructors, high tuition fees and crumbling campus infrastructure.
The government must publicly fund our public post-secondary education systems.
Protect Students' Independent Voices; and
Student media serves as an outlet for students to have their voices heard, as well as, a way to report on what matters to the student body as a whole.
Student-led media publications hold administrations and governments accountable and are an essential aspect of campus life.
Provide work experience and experiential learning opportunities.
The government must immediately eliminate the harmful Student Choice Initiative.

Defend the Right to Organize
Students' unions exist on campuses around the world to provide students with a united voice, advocate for change and operate essential support services.
Students have democratically voted to fund services, events, campaigns, student media and student groups through the collection of dues.
Student union autonomy allows students to have control over what services, events and campaigns they value most on campus.
The government must protect the existence of students' unions by passing legislation that recognizes their autonomy at post-secondary institutions.
In Spring 2019, we brought these issues forward to the provincial government. See our 2019 Budget Submission
here
.
Legal Challenge
On May 23, 2019, the Canadian Federation of Students alongside the York Federation of Students filed an Administrative Legal Challenge to the Student Choice Initiative.
The Student Choice Initiative is a policy directive from the Ministry of Training, Colleges and Universities that allows students to opt-out of ancillary fees (non-academic fees) that the government deemed non-essential.
Many of the non-essential fees include crucial student-run services and groups like students' unions, campus publications, radio associations, food centres, cultural groups and more.
Why did the CFS file an administrative challenge?
This legal challenge seeks to contest the Minister of Training, College and Universities' directives on the grounds that they are unlawful and were made in bad faith. It raises several grounds that warrant the court setting aside the directive, including that they:
Represent an unprecedented and entirely improper intrusion upon the autonomy of colleges and universities and that the long-standing MOU's and agreements that are in place with student associations to collect and remit fees that have been democratically approved by the student body.
Were announced without notice, and implemented without any meaningful stakeholder consultation with those directly affected, including universities, colleges, student associations or the CFS.
What outcome is the CFS hoping for from this legal challenge?
The CFS hopes that the court sees that the provincial government is overreaching through the policy and motions to repeal the Student Choice Initiative, effective immediately. This will allow students' unions, campus publications, radio stations and other student groups to continue operating under the previous fee collection and remittance policies, further allowing students to continue accessing quality services and resources.
Who is paying for this legal challenge?
The government's attack on students' autonomy is an issue that students and our solidarity partners consider extremely important. The CFS set up a legal fund acknowledging that student money should be spent on campaigns and services that students rely on. this legal challenge is fully supported by coalition partners such as the Ontario Public Sector Employees Union (OPSEU), Unifor, the Canadian Union of Public Employees (CUPE), the Elementary Teachers' Federation of Ontario (ETFO) and the Public Service Alliance of Canada (PSAC). We are very grateful for their support and for the support of workers from across the province and country.
Email your Member of Provincial Parliament (MPP) to stop the Ontario Government's attack on students!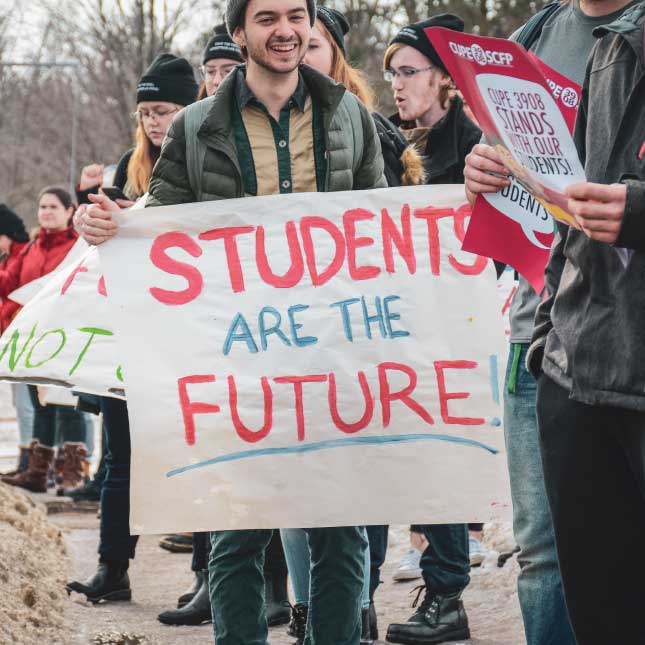 GET INVOLVED!
Students across the province are mobilizing to fight back against the cuts to post-secondary education and the Student Choice Initiative. If you are looking for resources to help organize on your campus check out the We The Students Organizing Guide.
Text ACTION to 647-493-0734 to receive information about actions, meetings and announcements on post-secondary education.
Want to get involved directly on campus? E-mail wethestudents@cfsontario.ca to join the We The Students movement.